Service | Private Sale & Art Market Valuation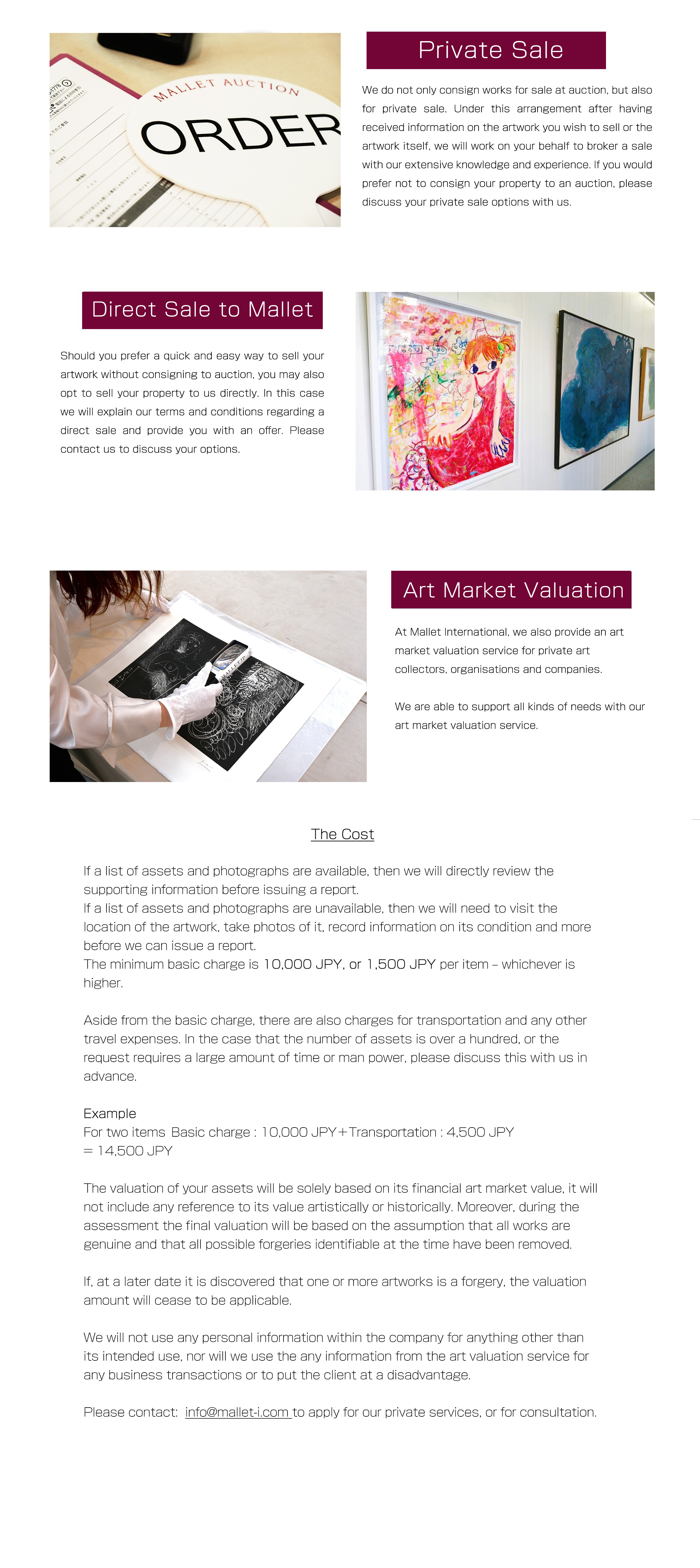 We do not only consign works for sale at auction, but also for private sale. Under this arrangement after having received information on the artwork you wish to sell or the artwork itself, we will work on your behalf to broker a sale with our extensive knowledge and experience. If you would prefer not to consign your property to an auction, please discuss your private sale options with us.
Direct Sale to Mallet Japan
Should you prefer a quick and easy way to sell your artwork without consigning to auction, you may also opt to sell your property to us directly. In this case we will explain our terms and conditions regarding a direct sale and provide you with an offer. Please contact us to discuss your options.
Art Market Valuation
At Mallet Japan, we also provide an art market valuation service for private art collectors, organisations and companies.
This service is designed for:
those who have inherited or received artwork and would like to know their current and projected market value
those who are conducting a valuation of assets and require a market valuation document.
those who require supporting evidence showing the market value of an artwork before passing it on to a third-party.
those who are donating the artwork and would like to know the value of their donation.
We are able to support all kinds of needs with our art market valuation service.
The Cost
If a list of assets and photographs are available, then we will directly review the supporting information before issuing a report.
If a list of assets and photographs are unavailable, then we will need to visit the location of the artwork, take photos of it, record information on its condition and more before we can issue a report.
The minimum basic charge is 10,000 JPY, or 1,500 JPY per item – whichever is higher.
Aside from the basic charge, there are also charges for transportation and any other travel expenses. In the case that the number of assets is over a hundred, or the request requires a large amount of time or man power, please discuss this with us in advance.
Example
For two items
Basic charge : 10,000 JPY+Transportation : 4,500 JPY
= 14,500 JPY
The valuation of your assets will be solely based on its financial art market value, it will not include any reference to its value artistically or historically. Moreover, during the assessment the final valuation will be based on the assumption that all works are genuine and that all possible forgeries identifiable at the time have been removed.
If, at a later date it is discovered that one or more artworks is a forgery, the valuation amount will cease to be applicable.
We will not use any personal information within the company for anything other than its intended use, nor will we use the any information from the art valuation service for any business transactions or to put the client at a disadvantage.
Please contact:art@mallet.co.jp to apply for our private services, or for consultation.